• Home Page
• Cartridge Repair
— Juke box
— Beam of light
— "Horseshoe" magnetic
• Cutter Head Repair
• Horn Driver Repair - Magnetic Cone Repair
• Tech Tips
• Astatic History
• Links

West-Tech Services
1227 Morrow Rd.
Kent, Ohio 44240
Phone: 740-581-0945
westtechservices@yahoo.com
Contact us
by clicking here.
PHONO CARTRIDGE REPAIR
"Maintaining the Originality"
WE REPAIR THEM!!!
Due to popular request by our customers and extensive research here at WEST-TECH, we rebuild the old obsolete Astatic, Shure, RCA, Webster Electric, American, and Electro-Voice type metal cartridges that use the set-screw type needle.
There is no need to use a "substitute, newer" cartridge, therefore maintaining the originality and value of the phonograph that the cartridge is used in. We replace any part in the cartridge to restore proper operation.
We also replace the stylus, depending upon availability. We actually "play test" each cartridge to assure sound quality and proper output. Each cartridge is tested over varying stylus pressure ranges of 0 - 2 ounces to insure that it will operate normally with light or heavy tracking tone arms. All you are required to do is send your cartridge in.
See the Tech Tips page for specifications on many of these cartridges, also to find out how to see if your cartridge is dead or not.
See the photos below for samples of the various cartridges that we rebuild (click a picture below to enlarge it).
Please note that we do not repair N, O, P, and Q in the illustration above right, but we may be able to replace them depending on availability.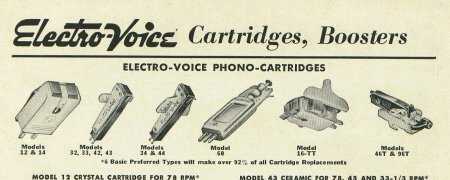 Please note that we do not repair Electro-Voice Models 32, 33, 34, 44, 46T or 96T.
Plastic Types Repaired
WEST-TECH also rebuilds the plastic body, later model crystal and ceramic type cartridges that are obsolete and not currently or easily available. This eliminates the need to hunt and search for months for a replacement. If we have the cartridge available we may replace it rather than rebuild, at the same price.
NOTE: In some cases we do not obtain satisfactory results. In this case the cartridge will be returned to you at no charge.
RCA Cartridges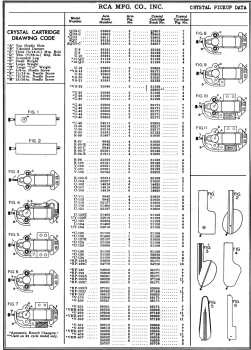 REBUILT CARTRIDGE PRICES
Thumbscrew types like the Astatic,Shure,Webster Electric etc.are $ 65 postpaid. Please contact us for more information.

RCA potmetal thumbscrew cartridges are $70 postpaid.

B1, B2 and B3 cartriges are $75 postpaid
You can pay via check or money order made out to West Tech or via Paypal sent to our Email address: westtechservices@yahoo.com
West-Tech Services Mailing Address
1227 Morrow Rd.
Kent, Ohio 44240